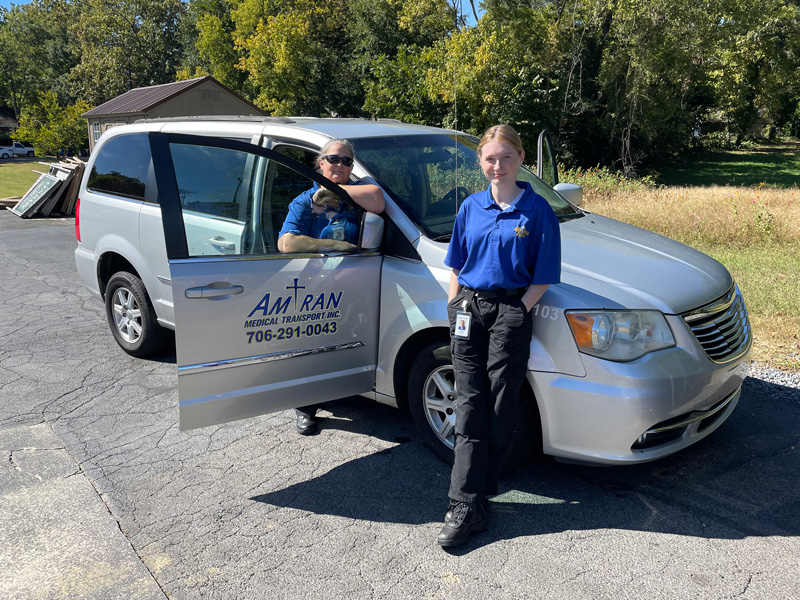 Wheelchair Transport
Amtran's vans are specially designed with our passengers safety and comfort in mind. 100% of our van fleet is equipped with rear loading and specialized restraints which accommodate personal wheelchairs and power scooters.
Wheelchairs can be requested for transit use at no additional cost. Our wheelchairs have elevated leg rests as well as additional cushions.
Amtran provides a single call source for families, hospitals, nursing homes and other healthcare facilities needing to make arrangements for transports.  These transports can be across town or out of state.
To schedule wheelchair transportation, call Amtran EMS at 706-291-0043.
Amtran's goal is to simplify the process of arranging transport for yourself, a family member, or a patient to and from a necessary destination. Our Patient Admissions Specialist are trained to handle all of your needs from payment options, filing the necessary paperwork for your insurance, Medicare, or Medicaid for services, or to discuss options regarding: Facility contract services for ALS/BLS, Non-Emergency Transports, Wheelchair, or ambulatory transport services.
For more information on any of our services contact our Patient Admissions Specialist at 706-591-0448